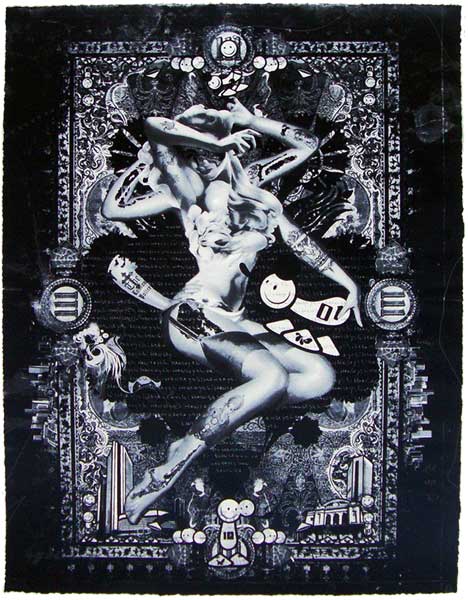 DOG DAYS
20″ x 26″
7 color screen print on cotton rag archival paper with deckled edges
Printed by Modern Multiples
Edition of 77
Signed & Numbered by both artists
Includes Certificate of Authenticity
$350.00


HPM's

We have a very limited edition of HPM prints., if you would like more information please email us
This print was produced for the Black Book Gallery exhibit "Amsterdynasty" featuring The London Police & Handiedan.
Chaz and Bob make up The London Police, a widely-known and well-respected duo from England who combine styles on every piece they produce, often mixing in a tall portion of antics and mock-seriousness along the way. In fact, their work is largely created from the dynamics of their friendship, which is a result of two small-town artists who continue to share an insatiable desire to work big and leave their mark. Since the beginning, which was back in 1998, Chaz and Gibson have clicked not only with each other, but with the international, contemporary and urban art world. Unknowingly and out of pure satisfaction to create and collaborate, the two began by traveling into London from their nearby homes tapping into the big city energy and laying down what at the time was not so common large ink drawings on the street surfaces of London and later, Amsterdam. In a well-timed series of events, Chaz and Gibson soon found themselves propelled into a lifestyle of global travel, art-making and art-showing, where The London Police emerged as major icons in the street and graffiti art movement over the past decade, their influence still potent to this day.
On their Denver show, Chaz says, "In the collaboration work between Bob and myself we have tried as ever to mix images and impressions of Denver and USA with the world of the LADS (TLP characters). As always its a pure pleasure to be exhibiting our work in another great American city. Denver has always been in my heart ever since Heather Locklear joined the cast of Dynasty and I asked my mum and dad if I could have a lock on my bedroom door." Bob responds with this, "I was more into 'Dex Dexter' in Dynasty to be honest. A dark, manly, well-dressed smooth operator who taught me the value of strong business etiquette and oily seduction."
The name of the show is called "Amsterdynasty." Chaz explains by saying, "Working life for an Amsterdam artist is a potent mix of love, obsession, sweat and tears. An everyday soap opera in the windmill-strewn, wooden-shoe-wearing canals and alleyways of Holland's capital, not too dissimilar from the popular Denver-based soap extravaganza that was 'Dynasty'."
In addition, The London Police are working with Handiedan on an all black and white show. This is a departure from Handiedan's normal work that is usually full of color. Although, she reports excitement that the black and white challenge is taking her back to her roots in photography.
Handiedan's feminine and sensual content will be an interesting, uniquely bizarre, counterbalance to The LADS characters. The boudoir aesthetic Handiedan chooses, also mixing in bits from classic tattoo culture and fantastical collage, arouses a certain tenderness that accompanies the subject matter. Handiedan pays big respect to women and sexual expression in general by using pin-up shapes, reframing the notion of a modern goddess. Not only are the female forms attractive to view, Handiedan's collage work is a highly enjoyable experience in-and-of-itself. It is delicate and ornate, incorporating vintage details and tactile pieces of history. Handiedan is from the Netherlands and sites cultural periods, especially in Europe, as a major influence in her work.