Banksy: You Are An Acceptable Level of Threat
Size: 8 x 10 Inches
Condition: New - Hardcover
Pages: 228
2012 Ginko Press
$34.99
US CUSTOMERS ONLY – INTERNATIONAL CUSTOMERS CONTACT US BEFORE PURCHASING

The single best collection of photographs of Banksy's street work. Period. Banksy — You Are An Acceptable Level of Threat concentrates on this singular artist's iconic imagery, spanning the late '90s up until the end of 2011. The locations are from around the world (predominantly the UK, US and Europe), and many images have never been seen before. When Banksy started out painting, the political landscape was bleak. Fortunately now, it's ten times worse.
As Banksy's cheerfully aggressive political work becomes ever more relevant, this comprehensive tome sets about presenting his art in the context of the era he was responding to.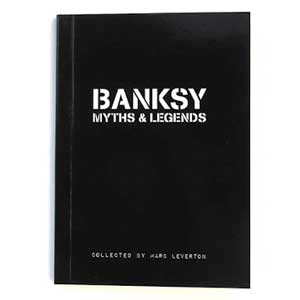 Banksy: Myths & Legends
Size: 7.8 x 4.3 Inches
Condition: New - Softback
Pages: 96
2011 Ginko Press
$9.99

We are including some random stickers with every order.
No single living artist has created as many myths, rumours and legends as Banksy. In his home town of Bristol, almost everyone seems to have a Banksy story. Many of the tales in this book are from Bristol, some are from further afield. What they share is that they are all told with the wide eyed wonder which Banksy inspires. Compiled between 2009 and 2011, some of these stories are quite old and have been told so many times they have become the stuff of legend, while others are more questionable and can best be described as myths. Some are laugh out loud bollocks and others are simply gossip. You be the judge.