Emek Foo Fighters on Aluminum
Size: 18 x 24 Inches
Condition: Mint
Edition: 90
Signed: Yes
Numbered: Yes
Year: 2011
Notes: Foil stamped aluminum sheet
$275.00


Emek Cyberman Art Print
Size: 18 x 24 Inches
Condition: Mint
Edition: 110
Signed: Yes
Numbered: Yes
Year: 2009
Notes: Screen Print
$175.00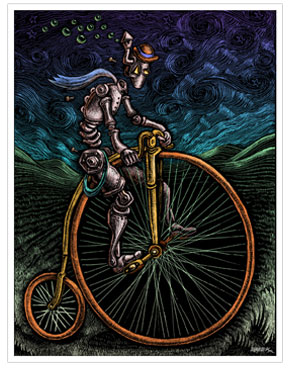 Emek Cybercycle Art Print
Size: 18 x 24 Inches
Condition: Mint
Edition: 110
Signed: Yes
Numbered: Yes
Year: 2009
Notes: Screen Print
$125.00
ADD TO CART

Emek visited Denver and signed his new book for over 5 hours straight! We also featured a great selection of framed prints during the signing. We worked with Furthur Frames to create unique and powerful framing for each piece.
Prints have been framed using archival materials and 99% UV glass. We took great care to make sure the prints were framed without harming them. Prices do not include shipping. We provide professional & affordable shipping, please contact us if you are interested in a piece.
All prints are signed, numbered and in mint condition.
Framed Prints
Exhibit Video: